The Exhibition
With Gala/Dalí/Dior: Of Art and Fashion the Fundació Gala-Salvador Dalí begins a new exhibition programme focused on Dalí's fascinating relationship throughout his life with the world of design and fashion. These two creators, Salvador Dalí and Chrstian Dior, epitomise the 20th century and are characterised by an attitude to art that manages to combine technical precision, creative obsession, a desire to go beyond and a sense of mise-en-scène.
Art and fashion intertwine to take visitors into this shared imaginary through a painstaking selection of the artist's work, Maison Dior's designs and documentary materials from the Fundació Gala-Salvador Dalí and Christian Dior Couture collections.
This exhibition is curated by Bea Crespo and Clara Silvestre with the scientific direction of Montse Aguer, Director of the Dalí Museums.
A Passion for Art
Gala's and Salvador Dalí's first contacts with Christian Dior were in Paris in the early 1930s, when the artist, with Gala's determined help, was trying to make a name for himself in the capital of art. Between 1931 and 1933, Dalí exhibited his creations in Pierre Colle's small gallery, of which Christian Dior became a partner in 1931. Notable among the different paintings, drawings and objects from the surrealist period on display are pieces such as Automatic Beginning of a Portrait of Gala, which was first shown to the public in 1933.
The Kingdom of Fashion
On 12 February 1947, Christian Dior revolutionised female fashion and aesthetics with the presentation of his first collection, which would soon come to be known as the New Look. The couturier carved out a place in the world of fashion design and subverted the codes of haute couture as Salvador Dalí had done years earlier with painting.
Gala – considered one of the most influential muses of the 20th century – quickly saw in Dior's style an opportunity to create and embellish her own image. Closely following the designer's ideas, she showed her taste for fashion in all her public appearances revealing a modern and sophisticated style. This is apparent in Dior's ensembles in her personal collection, which she wore in different events and vernissages accompanied by Dalí.
The Ball of the Century
On 3 September 1951 one of the most memorable and legendary events of the last century took place in Venice. Its architect, the extravagant multimillionaire and decorator Carlos de Beistegui, assembled at the Palazzo Labia the crème de la crème of high society and great figures from the period in an event announced as "The ball of the century". Aristocrats, movie actors, socialites, artists and fashion designers, among other illustrious guests, showed off the costumes created specifically for the occasion. Among the most memorable were the giants conceived by Salvador Dalí and Christian Dior with the mediation of Gala and help from Pierre Cardin. The giants' spectacular entrance into the ball, preceded by a parade through the streets of Venice, was one of the high points of the soirée.
Video
Púbol Castle is thus a highly significant place in the Dalinian creation: it is a continuation of Portlligat with a personality of its own. It is Dalí's gift to his wife Gala, to whom he took an oath of allegiance, and to which he could not gain access without written permission from her. For the past 22 years the castle has also been a space for our temporary exhibitions. On this occasion, the exhibition Gala/Dalí/Dior: Of Art and Fashion seeks to highlight the mutual admiration between Gala, Dalí and Dior and to explore how this affected their lives.
The Exhibition in Images
Exposition Salvador Dali catalogue, Pierre Colle gallery, Paris, 1933

Salvador Dalí. Automatic Beginning of a Portrait of Gala, ca. 1933
© Salvador Dalí, Fundació Gala-Salvador Dalí, Figueres, 2020

Salvador Dalí in his Paris apartment, 1935-1937
Image Rights of Salvador Dalí Reserved. Fundació Gala-Salvador Dalí, Figueres 2020.

Christian Dior. Saint-Ouen coat, spring-summer 1949 haute couture collection, Trompe-l'œil line, 1949.

Ricardo Sans. Double-exposure of Salvador Dalí and Gala on the terrace at Portlligat, 1951
Ricardo Sans Condeminas © Fundació Gala-Salvador Dalí, Figueres, 2020

Christian Dior. Musée du Louvre dress, spring-summer 1949 haute couture collection, Trompe-l'œil line, 1949

Marvin Koner. Gala and Salvador Dalí at the Salvador Dalí exhibition in the Carstairs Gallery, New York, 1950
Marvin Koner

Christian Dior - Boutique. Ensemble comprising a blouse and long lamé skirt imprinted with cashmere motifs, ca. 1970

Pierre Perottino. Salvador Dalí disguised for Carlos de Beistegui's ball in Venice, 1951
Collection Dior Héritage, Paris

Oriol Maspons / Julio Ubiña. Parade of giants designed by Dior along the Milky Way of the Portlligat House, 1960
© O. Maspons / Fundació Gala-Salvador Dalí, Figueres, 2020

Christian Dior, Tony Sandro, Gala, Victor Grandpierre and Salvador Dalí in Los Caracoles restaurant, Barcelona, 1956
Catalogue of the exhibition «Gala/Dalí/Dior: Of art and fashion»
Texts by Montse Aguer, Director of the Dalí Museums, Bea Crespo and Clara Silvestre, curators of this exhibition, and Joana Bonet, writer and journalist.
The catalogue was designed by Alex Gifreu and is sponsored by Fundación Bancaria "la Caixa".
DOWNLOAD THE CATALOGUE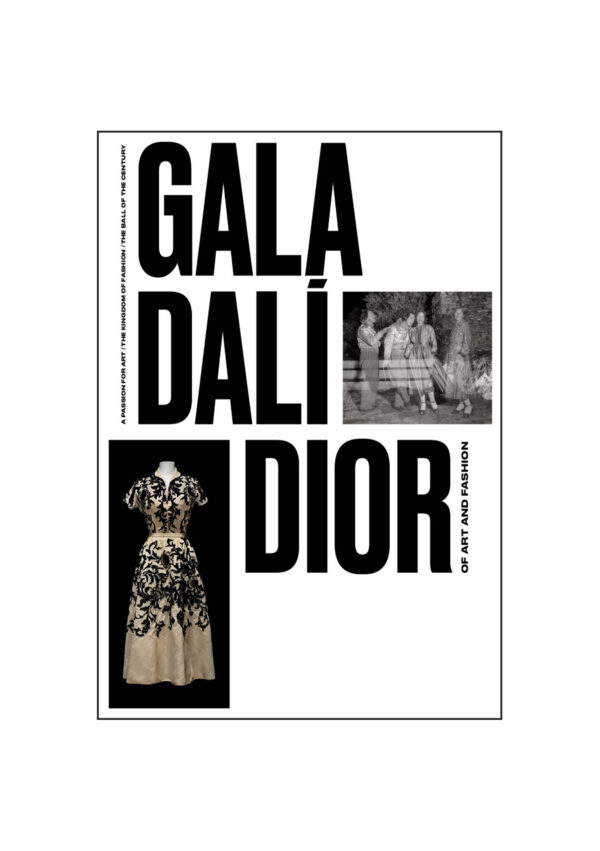 Why visit the exhibition?
Dior was one of the first people in Paris to concern himself with the sale of my 'unsellable' surrealist paintings.

Salvador Dalí

Our ambition was to show the masters we admired the most – Picasso, Braque, Matisse, Dufy – and the younger painters we knew personally and already held in high esteem: Christian Bérard, Salvador Dalí, Max Jacob and the Berman brothers…

Christian Dior

Christian Dior, he makes the study of Dali paintings and he has transcended his point of view.

Gala

These two creators, whose birthdays are so very close, share a universe and many more points in common than one might expect at first sight.

Montse Aguer

Director of the Dalí Museums

Dalí had already collaborated with Coco Chanel and Elsa Schiaparelli, and in the Sixties does so with Piaget and his gold cufflinks, but his relationship with Dior will be at once warm and symbolic.

Joana Bonet

Writer and journalist

By erecting their work on such solid foundations, Dalí and Dior thus made art and fashion the success and raison d'être of their lives.

Bea Crespo i Clara Silvestre

Curators of this exhibition